Celebrate stories with us this Giving Tuesday 2020 through your donation!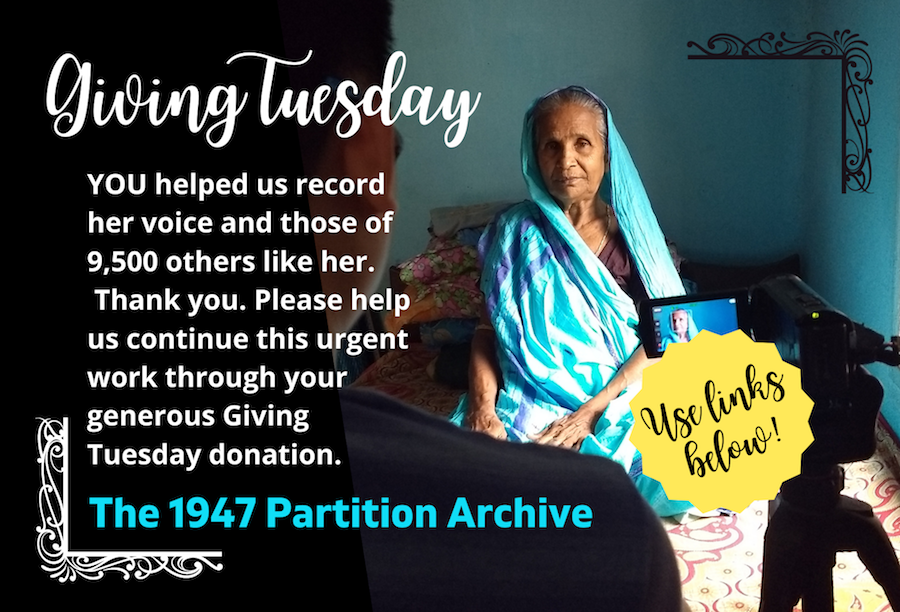 Thank you for visiting us on Giving Tuesday!
Today is a very important day:  We're not exaggerating when we say that today is one of the most important Giving Tuesdays we have ever had. The pandemic has impacted so many of us and turned 2020 into a challenging year.  The 1947 Partition Archive is no exception.  Now, with vaccines on the horizon, we look forward to a bountiful 2021.  Please join us in making it so!  Today, with your support, we are kicking off our annual fundraising drive for 2021.

Our plan in 2021, with your support, is to ramp up our oral history documentation work to pre-pandemic levels.  We downgraded our target of documenting 1500 families' memories to only 250, starting in March 2020.  We surpassed this goal during this time. However, our efforts were refocused during this time to digital archiving.  Over 3000 stories were on an archiving backlog, because on a bid to leave no witness behind, through a concensus decision, we overwhelmingly focused our energies on documentation work.  This has however meant that archivists cannot confirm the contents arriving in the archive for months and even a year upon arrival.  Thankfully, during the pandemic, with support from the National Endowment for the Humanities, we were able to build proprietary software to support digital archiving automation.  Our entire staff refocused and doubled down on archiving, and we have made huge progress.  Archiving now trails collections by only a few hundred, rather than thousands of oral histories. By 2021, we expect this gap to close.  In 2021, we will not only continue oral history documentation work, with a target of documenting 2000 more families, but will be administering research scholarships in collaboration with Tata Trusts for academics, Story Scholars fellowships in collaboration with YOU, and working on our big goal for the next five years:  Building memorials for public accessibility!


LINKS: Here's how you can be a part of Giving Tuesday
1. Donate using a credit card or paypal

2. Donate stock (use Fidelity Investments account Z50894702 and save on your taxes)

3. Donate through a donor advised fund using DAF Direct

4. Add a donate button to your Facebook post about The 1947 Partition Archive.

5. Create a fundraiser on Facebook and invite friends to donate!

6. Visit our donation page for more ideas!